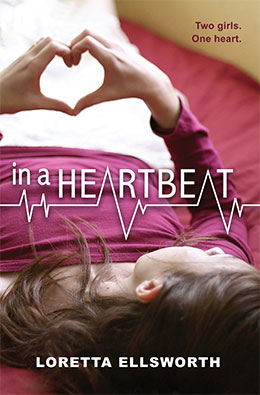 Walk­er Books for Young Read­ers
2009; ages 12 and up
Hard­cov­er: ISBN 978–0802720689
Paper­back: ISBN 978–0802722348
Find this book at your favorite library or used bookseller.
When a small mis­take costs six­teen-year-old Eagan her life dur­ing a fig­ure-skat­ing com­pe­ti­tion, she leaves many things unrec­on­ciled, includ­ing her trou­bled rela­tion­ship with her moth­er. From her van­tage point in the after­life, Eagan reflects back on her mem­o­ries, and what she could have done dif­fer­ent­ly, through her still-beat­ing heart.
When four­teen-year-old Amelia learns she will be get­ting a heart trans­plant, her fear and guilt bat­tle with her joy at this new chance at life. And after­wards when she starts to feel different—dreaming about fig­ure skat­ing, crav­ing grape candy—her need to learn about her donor leads her to dis­cov­er and explore Eagan's life, meet­ing her griev­ing loved ones and try­ing to bring the clo­sure they all need to move on.
Told in alter­nat­ing view­points, In a Heart­beat tells the emo­tion­al and com­pelling sto­ry of two girls shar­ing one heart.
ALAN's Picks, May 2010
Isin­glass Teen Read Award 2014
Mid­west Con­nec­tions Pick, Mid­west Book­sellers Association
"When the life of 16-year-old Eagan, an accom­plished fig­ure skater, comes to a sud­den and trag­ic end, 14-year-old Amelia, who suf­fers from con­ges­tive heart fail­ure, gains a chance for sur­vival ('some­one else had to die for me to live,' she thinks. '… when my fam­i­ly prayed for a new heart for me, we were pray­ing for that to hap­pen'). In straight­for­ward, stir­ring prose that alter­nates between the girls' per­spec­tives, Ellsworth (In Search of Mock­ing­bird) explores the inti­mate and mys­te­ri­ous con­nec­tion between organ donor and recip­i­ent. While Eagan finds her­self in a fog­gy place where she has flash­backs of her past, Amelia, recov­er­ing from the trans­plant, feels dif­fer­ent, like the new heart 'was sit­ting in a space that was­n't quite right.' Her mem­o­ries and dreams seem to belong to some­one else at times, mak­ing her won­der whether she's inher­it­ed more than a vital organ.… the emo­tions of the two pro­tag­o­nists are painstak­ing­ly fine-tuned. Read­ers will like­ly come away teary eyed and inspired to become organ donors them­selves." (Pub­lish­ers Week­ly)
"Ellsworth's dual nar­ra­tive explores the large and small ways med­ical tech­nol­o­gy for­ev­er inter­twines the lives of two strangers. When 16-year-old Eagan, a fig­ure skater with her sights on the Olympics, dies in a fall on the ice, 14-year-old Amelia receives the heart trans­plant that she and her fam­i­ly have been des­per­ate­ly await­ing. Trapped in a fog­gy lim­bo, Eagan must relive the defin­ing moments of her painful­ly short exis­tence before she can cross over to the here­after. In alter­nat­ing chap­ters, Amelia grap­ples with con­flict­ing feel­ings over her new heart, and inex­plic­a­ble changes in her post-op per­son­al­i­ty dri­ve her to seek out her anony­mous donor's fam­i­ly for answers. Ellsworth's dra­mat­ic sto­ry of loss and sec­ond chances is deft­ly tem­pered by its can­did teen nar­ra­tion and light touch­es of mys­tery and romance, mak­ing it a high­ly sat­is­fy­ing read, espe­cial­ly for fans of the nov­els of Lur­lene McDaniel and the recent Cold Hands, Warm Heart (2009), by Jill Wolf­son." (Book­list)
"The fla­vor is more mys­ti­cal­ly touched real­i­ty than out­right super­nat­ur­al, with the cel­lu­lar-mem­o­ry idea and Eagan's after­life view­point oper­at­ing as ways to access a com­pli­cat­ed and emo­tion­al life tran­si­tion rather than the main points of the sto­ry. Intrigu­ing­ly, Eagan, with her sharply chal­leng­ing approach to life and their strained rela­tion­ship with her dif­fi­cult moth­er, remains the strongest char­ac­ter even after her death; Ameli­a's health lim­i­ta­tions believ­ably leave her lit­tle room for per­son­al­i­ty out­side of her sit­u­a­tion, and her grow­ing dis­play of char­ac­ter­is­tics asso­ci­at­ed with Eagan could also be the mark of a young teenag­er who final­ly has the ener­gy to behave accord­ing to her age. Read­ers will there­fore find plen­ty of fod­der for thought and argu­ment about the exis­tence of the phe­nom­e­non, but even those in it for the emo­tion­al dra­ma will be moved by the sto­ry of two girls whose lives over­lap in tragedy and sal­va­tion." (Bul­letin of the Cen­ter for the Book)
"In a Heart­beat by Loret­ta Ellsworth was an amaz­ing book. It was giv­en to me as a new unknown book that I could read and review, and I read it all in one sit­ting. The sto­ry is told by Eagan and Amelia, two teenage girls con­nect­ed by life and death. The two dif­fer­ent nar­ra­tives make this sto­ry impos­si­ble to put down. I rec­om­mend this book to every­one who has a heart." (Rachel Het­trick, Book Mouse, Ottawa, IL)
"Eagan is a teenag­er whose pas­sion is ice skat­ing and whose dream is to skate pro­fes­sion­al­ly. She has the sup­port of both par­ents. How­ev­er, her mother's sup­port is sti­fling to Eagan due to secrets and lies; in turn, their rela­tion­ship is a con­stant bat­tle. Eagan makes a wrong move dur­ing one of her com­pe­ti­tions and dies from a head injury.
"Amelia, who is in des­per­ate need of a heart trans­plant in order to live, gets Eagan's heart. Once on her way to recov­ery after the trans­plant, Amelia begins to notice changes in her­self; she notices changes in her atti­tude, her likes and dis­likes, even the things that she gets emo­tion­al over that would not have fazed her before. Amelia meets Ari, the broth­er of a trans­plant patient, who explains to her that it is not uncom­mon for patients to become part of the per­son from whom the organ came. Because of the con­nec­tion Amelia now feels to her donor, she is deter­mined to meet Eagan's fam­i­ly; and Ari helps her. Eagan's moth­er is resis­tant at first, but when Amelia gets sick, Eagan's moth­er vis­its her in the hos­pi­tal and makes a peace with her daugh­ter and her death. Eagan, in an after­life expe­ri­ence, watch­es as the whole sto­ry plays out.
"Heart­warm­ing and com­pas­sion­ate describe the mag­nif­i­cent work Loret­ta Ellsworth has done in her book In a Heart­beat. The style in which she writes this sto­ry allows the read­er to keep up with each indi­vid­ual character's sto­ry and antic­i­pate con­nec­tions between and among them. Ellsworth has cre­at­ed two heart wrench­ing sto­ries and inter­twined each into the oth­er." (Priscil­la A. Boerg­er, Boca Raton, FL, ALAN's Picks)