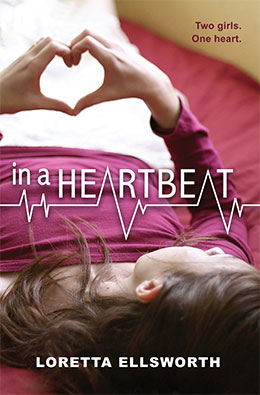 Walker Books for Young Readers
2009; ages 12 and up
Hardcover: ISBN 978-0802720689
Paperback: ISBN 978-0802722348
Find this book at your favorite library or used bookseller.
When a small mistake costs sixteen-year-old Eagan her life during a figure-skating competition, she leaves many things unreconciled, including her troubled relationship with her mother. From her vantage point in the afterlife, Eagan reflects back on her memories, and what she could have done differently, through her still-beating heart.
When fourteen-year-old Amelia learns she will be getting a heart transplant, her fear and guilt battle with her joy at this new chance at life. And afterwards when she starts to feel different—dreaming about figure skating, craving grape candy—her need to learn about her donor leads her to discover and explore Eagan's life, meeting her grieving loved ones and trying to bring the closure they all need to move on.
Told in alternating viewpoints, In a Heartbeat tells the emotional and compelling story of two girls sharing one heart.
ALAN's Picks, May 2010
Isinglass Teen Read Award 2014
Midwest Connections Pick, Midwest Booksellers Association
"When the life of 16-year-old Eagan, an accomplished figure skater, comes to a sudden and tragic end, 14-year-old Amelia, who suffers from congestive heart failure, gains a chance for survival ('someone else had to die for me to live,' she thinks. '. . . when my family prayed for a new heart for me, we were praying for that to happen'). In straightforward, stirring prose that alternates between the girls' perspectives, Ellsworth (In Search of Mockingbird) explores the intimate and mysterious connection between organ donor and recipient. While Eagan finds herself in a foggy place where she has flashbacks of her past, Amelia, recovering from the transplant, feels different, like the new heart 'was sitting in a space that wasn't quite right.' Her memories and dreams seem to belong to someone else at times, making her wonder whether she's inherited more than a vital organ. . . . the emotions of the two protagonists are painstakingly fine-tuned. Readers will likely come away teary eyed and inspired to become organ donors themselves." (Publishers Weekly)
"Ellsworth's dual narrative explores the large and small ways medical technology forever intertwines the lives of two strangers. When 16-year-old Eagan, a figure skater with her sights on the Olympics, dies in a fall on the ice, 14-year-old Amelia receives the heart transplant that she and her family have been desperately awaiting. Trapped in a foggy limbo, Eagan must relive the defining moments of her painfully short existence before she can cross over to the hereafter. In alternating chapters, Amelia grapples with conflicting feelings over her new heart, and inexplicable changes in her post-op personality drive her to seek out her anonymous donor's family for answers. Ellsworth's dramatic story of loss and second chances is deftly tempered by its candid teen narration and light touches of mystery and romance, making it a highly satisfying read, especially for fans of the novels of Lurlene McDaniel and the recent Cold Hands, Warm Heart (2009), by Jill Wolfson." (Booklist)
"The flavor is more mystically touched reality than outright supernatural, with the cellular-memory idea and Eagan's afterlife viewpoint operating as ways to access a complicated and emotional life transition rather than the main points of the story. Intriguingly, Eagan, with her sharply challenging approach to life and their strained relationship with her difficult mother, remains the strongest character even after her death; Amelia's health limitations believably leave her little room for personality outside of her situation, and her growing display of characteristics associated with Eagan could also be the mark of a young teenager who finally has the energy to behave according to her age. Readers will therefore find plenty of fodder for thought and argument about the existence of the phenomenon, but even those in it for the emotional drama will be moved by the story of two girls whose lives overlap in tragedy and salvation." (Bulletin of the Center for the Book)
"In a Heartbeat by Loretta Ellsworth was an amazing book. It was given to me as a new unknown book that I could read and review, and I read it all in one sitting. The story is told by Eagan and Amelia, two teenage girls connected by life and death. The two different narratives make this story impossible to put down. I recommend this book to everyone who has a heart." (Rachel Hettrick, Book Mouse, Ottawa, IL)
"Eagan is a teenager whose passion is ice skating and whose dream is to skate professionally. She has the support of both parents. However, her mother's support is stifling to Eagan due to secrets and lies; in turn, their relationship is a constant battle. Eagan makes a wrong move during one of her competitions and dies from a head injury.
"Amelia, who is in desperate need of a heart transplant in order to live, gets Eagan's heart. Once on her way to recovery after the transplant, Amelia begins to notice changes in herself; she notices changes in her attitude, her likes and dislikes, even the things that she gets emotional over that would not have fazed her before. Amelia meets Ari, the brother of a transplant patient, who explains to her that it is not uncommon for patients to become part of the person from whom the organ came. Because of the connection Amelia now feels to her donor, she is determined to meet Eagan's family; and Ari helps her. Eagan's mother is resistant at first, but when Amelia gets sick, Eagan's mother visits her in the hospital and makes a peace with her daughter and her death. Eagan, in an afterlife experience, watches as the whole story plays out.
"Heartwarming and compassionate describe the magnificent work Loretta Ellsworth has done in her book In a Heartbeat. The style in which she writes this story allows the reader to keep up with each individual character's story and anticipate connections between and among them. Ellsworth has created two heart wrenching stories and intertwined each into the other." (Priscilla A. Boerger, Boca Raton, FL, ALAN's Picks)