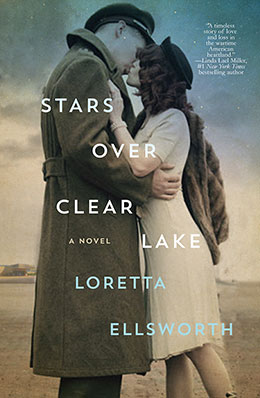 Thomas Dunne Books
May 2, 2017, adults, teens
hard­cov­er: ISBN 978–1250097033
paper­back: ISBN 978–1250805867
Mes­mer­iz­ing and roman­tic, Stars Over Clear Lake trans­ports read­ers to the Surf Ball­room, where musi­cal acts became leg­ends in the 1940s and which holds the key to one woman's deep­est secret.
Lor­raine Kindred's most cher­ished mem­o­ries are of the Surf Ball­room, the place where youth lost them­selves to the brassy sounds and mag­net­ic ener­gy of the big band swing, where boys spent their last nights before ship­ping off to war―and where Lor­raine her­self was swept away by a star-crossed romance.
Return­ing to the ball­room for the first time in decades, Lor­raine enters a daz­zling world she thought long van­ished. But as the sparkling past comes to life, so does the fate­ful encounter that forced her to choose between her heart and her duty all those years ago―and Lor­raine must face the secret she's buried ever since. Along the way, she'll redis­cov­er her­self, her pas­sion, and her capac­i­ty for resilience.
Set dur­ing the 1940s and the present and inspired by a real-life ball­room, Loret­ta Ellsworth's Stars Over Clear Lake is a mov­ing sto­ry of for­bid­den love, lost love, ever­last­ing love―and self love.
"Ellsworth's depic­tion of 1940s life in a rur­al Iowa town, com­pli­cat­ed by the tragedies of World War II, vivid­ly brings this nov­el to life. Yet it is the focus on love, loss, and life choic­es that will res­onate most with the read­er." — Pub­lish­ers Week­ly (read the full review)
Fans of romance and his­tor­i­cal fic­tion alike will enjoy Ellsworth's enhanced vision of mid-Amer­i­ca in the 1940s and what real­ly brought the Surf Ball­room crash­ing down. For any­one with ties to this brief moment in his­to­ry, this dance is for you. — Min­neapo­lis Star­Tri­bune (read the full review)
"A time­less sto­ry of love and loss in the wartime Amer­i­can heart­land." (Lin­da Lael Miller, #1 New York Times best­selling author)
"Stars Over Clear Lake is an absorb­ing love sto­ry full of nos­tal­gia, heart­break, and secrets long buried—whether to pro­tect oth­ers or sim­ply for sur­vival. High­light­ing the less­er-known his­to­ry of POWs in Amer­i­ca dur­ing World War II, Ellsworth's tale serves as a time­ly reminder of the human­i­ty that con­nects us, regard­less of bor­ders or cir­cum­stance, to even those labeled 'the ene­my.' A mem­o­rable, high­ly trans­port­ing nov­el." (Kristi­na McMor­ris, New York Times best­selling author of The Edge of Lost and The Pieces We Keep)
"A heart­felt, stir­ring nov­el of love, loss and redemp­tion. Told in rich his­tor­i­cal detail and with unflinch­ing hon­esty, Stars Over Clear Lake sweeps the read­er back and forth between the stark real­i­ty and the sac­ri­fices brought on by war and the heal­ing pow­ers of hope, love and for­give­ness." (Heather Gudenkauf, New York Times and USA Today best­selling author of The Weight of Silence and Miss­ing Pieces)
"A mov­ing and life-affirm­ing sto­ry that illu­mi­nates an often over­looked chap­ter in Amer­i­can his­to­ry. Loret­ta Ellsworth takes the read­er on an enthralling jour­ney through the ups and downs of the human heart." (Ann Howard Creel, author of The Mag­ic of Ordi­nary Days and While You Were Mine)
"Loret­ta Ellsworth has writ­ten a mov­ing romance that, at the same time, illu­mi­nates a lit­tle-known aspect of World War II history—the pres­ence of Ger­man pris­on­er of war camps in the Amer­i­can heart­land. With warmth and can­dor, Ellsworth brings that peri­od, and the peo­ple who lived through it, to life." (Dana Sachs, author of The Secret of the Nightin­gale Palace and If You Lived Here)
"In this won­der­ful book, we are giv­en so much his­to­ry, how World War II played out in the mid­dle of the coun­try, this musi­cal era, the tale of the POW camps in Iowa. A very mov­ing, musi­cal, and mag­i­cal love sto­ry." (Mary Logue, author of the Claire Watkins mysteries)