I was born in Mason City, Iowa, and grew up in a large fam­i­ly of sev­en chil­dren, two par­ents, and one bathroom.
When I was young I kept a diary (see below) but I nev­er con­sid­ered becom­ing a writer until I had four chil­dren of my own.
My first book took me two years to write. I jug­gled writ­ing with my work as a mid­dle-school Span­ish teacher, my kids' soc­cer games, and lots of fam­i­ly get-togethers.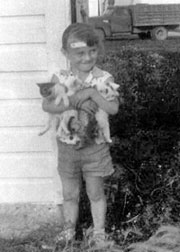 When I was lit­tle, I loved cats.
I can't swim (all those years of lessons wasted).
I've been in a writer's group for many years.
I've nev­er eat­en sushi.
Favorite book? To Kill a Mock­ing­bird, by Harp­er Lee
Favorite old movie? Har­vey, with Jim­my Stew­art. Favorite line from that movie: "In this world, you must be oh so smart or oh so pleas­ant. Well, for years I was smart. I rec­om­mend pleasant."
My child­hood diary was filled with bor­ing details. An exam­ple: "Had Girls Scouts today and watched Bonan­za." (I watched a lot of Bonan­za). But writ­ing in my diary did get me into the habit of writ­ing every day. (A dis­ci­pline that comes in handy to most writers).