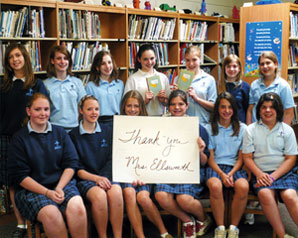 Your stu­dents will have a great time work­ing with me!
I've pre­sent­ed at young writer work­shops and schools for grades 3 through 12.
I focus on active­ly engag­ing stu­dents in dis­cus­sions on the writ­ing life, how authors find inspi­ra­tion for their books, the craft of writ­ing, and writ­ing activities.
Stu­dents ben­e­fit more from a pre­sen­ta­tion when they have read my books or when the teacher has read one of my books out loud.
Allow an addi­tion­al 30 min­utes for book signing.
Insid­er tip: Here's a great way to fund your author vis­it. Sell books as a fundrais­er! Order my books at least 2–3 weeks ahead). Schools receive a great discount.
To book me for your school, send me an e‑mail.