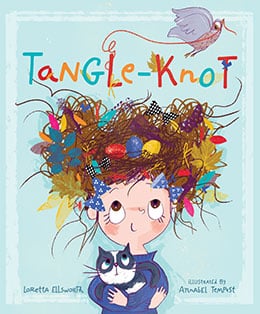 Page Street Kids, June 6, 2023
32 pages, ages 4 to 8
ISBN 978–1‑6456–7713‑0
Tan­gle-knot is not a word, but it is Fia's hair.
And Fia thinks it's per­fect, which is why she refus­es to brush it, even though her mom always com­plains it's a mess. In fact, it's more than a mess―it's a nest for a moth­er bird and her three col­or­ful eggs!
Fia takes excel­lent care of her birds and shows off her tan­gle-knot every­where she goes, attract­ing lots of atten­tion. As the spec­ta­cle grows, so does Mom's dis­ap­proval. But Fia's com­mit­ment to being her­self just might be pow­er­ful enough to change her mother's mind.
This whim­si­cal sto­ry shines with light­heart­ed relata­bil­i­ty, remind­ing us that even when our par­ents just don't get it, they always want us to be happy.