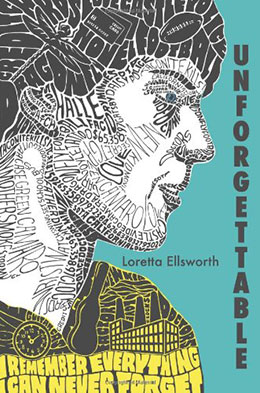 Walk­er Chil­dren's Books
Sep­tem­ber 27, 2011, teens, adults
Hard­cov­er: ISBN 978–0802723055
Find this book at your favorite library or used bookseller.
Bax­ter Green isn't like every­one else. While most peo­ple would for­get about the lit­tle details of every­day life, Bax­ter nev­er forgets—not pain, not hurt, not embar­rass­ment. In fact, Bax­ter nev­er for­gets anything—not even a string of account num­bers, flashed before his eyes by his mother's crim­i­nal boyfriend, Dink, for use in a cred­it card scam.
Years after his tes­ti­mo­ny has locked Dink away, Bax­ter and his moth­er are in a new town, try­ing to for­get the dan­ger Dink brought into their lives. Bax­ter wants to hide his unique abil­i­ty, but it becomes increas­ing­ly more dif­fi­cult when he recon­nects with Hal­lie, a girl from his child­hood who has lived on in his mem­o­ry long after she has for­got­ten him. Can Bax­ter win Hallie's heart?
Loret­ta Ellsworth's nov­el is one read­ers will nev­er forget.
Kirkus Reviews List of New and Notable Books for Teens
North­east­ern Min­neso­ta Book Award, win­ner in Chil­dren's Literature
"Fif­teen-year-old Bax­ter Green has synes­the­sia; he hears voic­es as col­ors, tex­tures or sounds. And he nev­er for­gets any­thing. He's nev­er for­got­ten his home­work, nev­er lost a library book, nev­er lost a shoe. He remem­bers every day of his life as if it just hap­pened, even kinder­garten and a lit­tle girl named Halle with daf­fodils in her voice. When he and his moth­er move to Welling­ton, Minn., to hide out from his mother's crim­i­nal ex-boyfriend, who used Baxter's mem­o­ry for a cred­it card scam and went to prison, Bax­ter hopes to hide his unusu­al pow­ers, fit in and nev­er again be known as The Mem­o­ry Boy. But Halle hap­pens to live in Welling­ton now, too. Bax­ter doesn't let on that he knows her and remem­bers every­thing about her, not want­i­ng Halle to think him a freak with a weird super­pow­er. A lot is going here—an explo­ration of synes­the­sia and mem­o­ry, a crime sto­ry, an envi­ron­men­tal dra­ma, fam­i­ly rela­tion­ships and a sweet, earnest love sto­ry with a nod to The Great Gats­by. But every­thing works, and, ulti­mate­ly, it's all of these things togeth­er that lead to Baxter's trans­for­ma­tion into a boy who doesn't have to make him­self invis­i­ble to fit in. It's a sweet love sto­ry, where hold­ing hands with Halle, a kiss and being loved for who you are enough to make Baxter's world anew." (Kirkus Reviews, starred review)
"Bax­ter Green, a 15-year-old who remem­bers every detail of his life dat­ing back to an acci­dent at age three, is the anx­ious, awk­ward hero of this off­beat mod­ern romance. After his mother's ex-boyfriend, Dink, is freed from prison for cred­it card fraud, Bax­ter (who tes­ti­fied against Dink in court and stole some of his mon­ey) flees Cal­i­for­nia with his moth­er to begin a new life in Welling­ton, Minn., where his kinder­garten soul mate, Halle, now resides. Bax­ter (who also has synes­the­sia) recalls every detail of their short-lived romance, but Halle has no mem­o­ry of him. Just as Bax­ter seems to be mak­ing head­way, regain­ing Halle's affec­tion, Dink dis­cov­ers their new address and may be on his way to seek revenge. Ellsworth (In a Heart­beat) has hold of a fas­ci­nat­ing premise … read­ers get a sense of the stress Baxter's per­fect mem­o­ry brings. Read­ers will appre­ci­ate both the story's lit­er­ary allu­sions (Baxter's class is read­ing The Great Gats­by) and Baxter's desire to be "nor­mal" and his deter­mi­na­tion to recap­ture the past as he remem­bers it." (Pub­lish­ers Week­ly)
"Fif­teen-year-old Bax­ter Green doesn't for­get any­thing. He can remem­ber each and every meal he ever ate, the father who died when he was just a tod­dler, the stolen cred­it card num­bers his mother's ex-boyfriend made him mem­o­rize, and the exact threat Dink issued when he went to jail. Now the man is being released, and Bax­ter and his moth­er decide to stay out of his way. The teen gets to choose where they will live next, and he picks the cur­rent home of his kinder­garten crush, Welling­ton, MN. Halle doesn't remem­ber Bax­ter, but she likes him. As he tries to be nor­mal, he can't help but won­der if his feel­ings for her are true or just part of his unique mem­o­ry. And what will hap­pen when Halle finds out that he kept her in the dark about who he is? The thought of los­ing her is worse than the para­noia he feels about Dink. Ellsworth's sto­ry is a new take on the stan­dard com­ing-of-age tale. Baxter's char­ac­ter is believ­able, and the nature of his mem­o­ry is deft­ly explained. This read­able nov­el will find fans among those look­ing for romance and dra­ma." (School Library Jour­nal)
"Bax­ter Green nev­er for­gets a face. Or a name, or a song lyric, or the minut­est detail of every­thing he has ever expe­ri­enced, includ­ing joy and pain, fear and love. He has a pho­to­graph­ic mem­o­ry and lit­er­al­ly can­not for­get any­thing, even when he wants to. So the feel­ings he had for Halle in kinder­garten are so real and strong to him still, at fif­teen, that it is con­fus­ing and dis­ap­point­ing when she does not remem­ber him at all. Bax­ter and his mom, on the run from an ex-boyfriend with a seri­ous grudge, move from Cal­i­for­nia to Min­neso­ta where he knows Halle will be, and where he hopes to renew a roman­tic spark. Things do not go as planned, but the boy known as "Mem­o­ry Boy" will come to accept who and what he is, and to real­ize and appre­ci­ate his lim­i­ta­tions. Ellsworth has cre­at­ed a gen­uine­ly sym­pa­thet­ic char­ac­ter in Bax­ter. His tri­als are unique, yet realistic—the dif­fi­cul­ty of hid­ing the mixed bless­ing of his mem­o­ry gift, the all-too-real threat of a dan­ger­ous man pur­su­ing him, and the prob­lems typ­i­cal of a dis­placed fif­teen-year-old boy. Mem­o­ries inter­spersed through­out the nar­ra­tive cre­ate a rich back­ground that broad­ens the scale of the sto­ry. It is enter­tain­ing, but with some issues wor­thy of discussion—the envi­ron­men­tal and health impacts of min­ing, and the social issues of kids who are dif­fer­ent. Over­all, this is a strong addi­tion to any library serv­ing young adults." (VOYA)
"From the intrigu­ing front dust­cov­er to the light-at-the-end-of-the-tun­nel con­clud­ing pages, this title is a win­ner. Fif­teen-year-old Bax­ter Green, the vic­tim of a child­hood acci­dent, bears the bur­den of synes­the­sia. Bax­ter can­not for­get anything—not col­ors, sounds, num­bers, faces, his home­work, phone num­bers, the list goes on. For years, Bax­ter was stud­ied by a psy­chi­a­trist who also served as a men­tor in help­ing the young­ster make sense of his world. How­ev­er, when Bax­ter's moth­er's boyfriend is released from prison for a crime that he forced Bax­ter into help­ing him com­mit, both moth­er and son choose to run and hide. Thus, at fif­teen, Bax­ter is enter­ing high school for the first time and in Min­neso­ta, not in his native Cal­i­for­nia. If these ten­sions were not ample, there is a girl whom he has nev­er for­got­ten, not since kinder­garten and she lives in the same small Min­neso­ta town. Nar­rat­ed by Bax­ter, this quest for safe­ty, for iden­ti­ty, and for that amaz­ing Halle, his first love, will have read­ers, even reluc­tant ones, glued to this nov­el right up to its real­is­tic and sat­is­fy­ing con­clu­sion. Read­ers read­i­ly iden­ti­fy with this spe­cial needs pro­tag­o­nist regard­less of how attrac­tive his mal­a­dy may appear on the sur­face. Synes­the­sia is a real con­di­tion and Ellsworth has pro­vid­ed a sym­pa­thet­ic pro­tag­o­nist that read­ers will remem­ber long after the last page is turned. This title is high­ly rec­om­mend­ed for home, school, and pub­lic libraries and should cer­tain­ly be con­sid­ered for the Schnei­der Fam­i­ly Book Award." (Jan­ice DeLong, Chil­dren's Lit­er­a­ture)